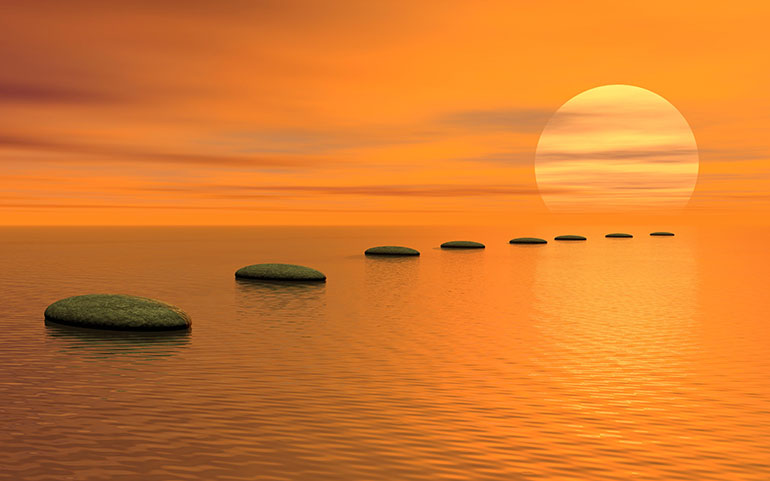 More and more organizations are focusing on the key competency it takes to be a good leader: mindfulness. Is mindfulness in leadership simply a trend? Absolutely not!
References to the practice of mindfulness can be traced back to 3,000 years, in Buddhist philosophy and Hindu texts, among others.
More recently
Peter Senge, professor at the MIT Sloan School of Management, founder of the Society for Organizational Learning, and author of The Fifth Discipline: The Art & Practice of The Learning Organization, believes that "to become a good leader, you must first become a good human being."
A concept that is more relevant than ever
The coach accompanies this leader. He helps him to better observe and become aware his habits of thinking and acting, perceiving the transient nature of his emotions and uncovering the blind spots. The coach engages the leader into taking action, consciously and in the present moment, to help her reach more quickly the objectives she has defined.
Presence, a new social technology
Psychologist and Harvard University researcher Ellen Langer describes presence as "the process that allows us to actively notice what is emanating from ourselves, our environment, in the moment," and that concept is being integrated into our university curriculums, our leadership programs and in our organizations.
How can this mindful leadership help our managers and organizations succeed?
What are the benefits of a coach supporting the development of leadership mindfulness, improving the quality of one's presence and a better understanding of oneself?
Inspired by the practice of presence, Otto Scharmer, professor at MIT, teaches what he coined as a 'new social technology', Theory U, as a "powerful drive of systemic, individual, and collective change," to address the multiple organizational and societal challenges.
Presence is the act of engaging consciously with our environment. By developing another way to function, that is to say to see and perceive, to sense and comprehend, we can make room for emergence and innovation.
Scharmer believes that by encouraging a more in-depth reflection process, in the present moment, we become aware of the whole picture in a more profound, enlightened way leading to actions that will contribute to shaping the 'emergent future'. This state of presence gives a deeper and more intuitive look at our context and perceptions.
For a leader, this clearer vision of the interdependence between our different human and organizational systems plays an essential role in inspiring leadership and better business management.
When the "structure of our attention" becomes deeper, so does the process of change that follows. Presence allows us to "see" the experience more carefully, reflect and react with greater insight and openness.
Major companies fostering mindfulness
For Dr. Jon Kabat-Zinn, presence is the ability to "pay attention in a specific way: with intent, in the moment, and without judgement." Over the past several years, Dr. Kabat-Zinn has worked with large organizations such as Aetna, Google, General Mills, Target, and many more to develop numerous programs that foster the practice of mindfulness for employees and executives in order to improve the well being of the employees and the organization.
The impact of mindfulness on performance
According to a UNC Kenan-Flagler Business school study, the benefits of mindfulness can lead to "improvements in innovative thinking, communication skills and more appropriate reactions to stress." Aetna also noticed a significant rise in employee and organizational performance after they introduced the practice of self-awareness.
Whereas mindfulness in organizations was a key topic at the World Economic Forum in April 2017, at Université Laval in Quebec City, professor Charles Baron (post-conventional leadership) designed a leadership program integrating various mindfulness and meditative practices as a key skill for leadership. And why has HEC Montréal, Université de Montréal's business school, talks about mindfulness in some of its leadership courses and workshops? Because they believe that a leader who is able to take a step back, develop a more reflective mindset, who is completely present to their 'self' and to their organizational context, is a better manager who can inspire engagement and collaboration. A leader that fosters a climate of growth, respect, and cohesion, a climate that makes it easier to adapt to change.
A conscious leader inspires a conscious organization, cultivates creativity and develops new leadership skills at all levels of the organization.
Presence thus becomes a key competency in leadership.
For more information about the services offered by Ocean Coaching
(514) 586-0086
---
References, quotes and inspiration for this article are drawn from the works of: Peter Senge (MIT) ; Otto Scharmer (MIT); Charles Baron (Université Laval) ; Ellen Langer (Harvard University) ; Jon Kabat-Zinn (Centre for Mindfulness)